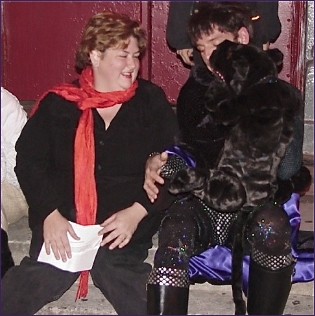 Barbara Busackino, Producer
Barbara was formally trained as an art historian and painter at Pratt Institute. In 1992 she joined HOME for Contemporary Theatre and Art as Producing Director, seeing hundred of new artists and original works to the New York stage including world premieres by Eve Ensler, Camryn Manheim, Craig Lucas, David Greenspan, Paul Bernstein, Alan Ball and Todd Alcott. She originally produced Eve Ensler's "The Vagina Monologues" at HERE Arts Center, which received an OBIE Award in 1997.
In 1998 she joined Ensler as a Coordinating Producer for the just formed V-Day Fund which produced it's first all-star evening of "The Vagina Monologues" with a host of extraordinary women at the Hammerstein Ballroom.
She is a co-founder of HERE Arts Center, where she originally produced Basil Twist's "SYMPHONIE FANTASTIQUE" which was the inaugural production of HERE's Dream Music Puppetry Program, for which she remains the producer.
She is the producer for Twist's Tandem Otter Productions, which is an independent production company based in New York City dedicated to the development, creation, touring and presentation of new work created by Basil Twist among other puppetry artists. Credits include "Symphonie Fantastique", "The Long Christmas Ride Home", "Petrushka", "Master Peter's Puppet Show", "Dogugaeshi", "La Bella dormente nel Bosco", "Hansel and Gretel" and "Behind The Lid."