DANCE UNDER THE INFLUENCE

Friday, March 22, 2013 - 7:30 pm
$20 general / $12 members and students
The Theater at MAD
click here to purchase tickets, or call 1.800.838.3006
In March, Dance Under the Influence continues with ABT Studio Company giving audiences a chance to see stars of the future perform works by great choreographers of our time; the dynamic all-female, hip hop Decadance Theatre presents a thrilling mash-up of street dance and ballet, while post modernist David Neumann delivers works of poignancy and dry wit, and great theater artist and puppeteer Basil Twist creates an engrossing world with his favorite puppet characters.

World Premiere Performances
4/12/13 • 8:00 pm
4/13/13 • 8:00 pm
A full-length orchestral program to commemorate the 100th Anniversary of the premiere of the Ballet Russes of Rite of Spring. See The evening will be a further exploration of abstract puppetry and music that Twist began exploring with his "Symphonie Fantastique" in 1998. Accompanied by Orchestra of St.Lukes in Memorial Hall in Chapel Hill, NC, Twist will stage this world-premiere work, The Rite of Spring, that transforms traditional puppetry into kinetic fabric and Smoke sculptures into what he calls "a ballet without dancers." Twist will also stage his new versions of Stravinsky's Pulcinella and Fireworks on the same evening.

New ballet based on the famous fairytale. US Premiere May 2013
San Francisco Ballet presents the must-see dance event of the season: the U.S. premiere of Christopher Wheeldon's darkly magical new production of Cinderella. Taking its inspiration from the Brothers Grimm and Perrault fairy tales and set to the music of Sergei Prokofiev, this co-production with Dutch National Ballet features wildly imaginative sets and costumes by Julian Crouch, renowned for his designs for Metropolitan Opera and the Broadway musical The Addams Family, And puppetry by Obie Award winner Basil Twist. Premieres May 3. LINK TO CINDERELLA

"Twist is at once reviving a lost tradition and breaking new creative ground." - The Japan Times
This September Dogugaeshi,·Twist's hypnotic collaboration with master musician Yumiko Tanaka,·emerges from slumber at Hamilton College in Clinton, NY·then returns energized to New York City for a 3rd engagement celebrating the 60th Anniversary of The Japan Society's Performing Arts Program, then heads out west for a debut in the Radar L.A Festival at RedCat.
For complete production info and history go HERE
For further tickets and further on these performance dates:
September 13 & 14 Hamilton College
September 18 - 22 Japan Society
September 26 - 29 Radar LA/RedCat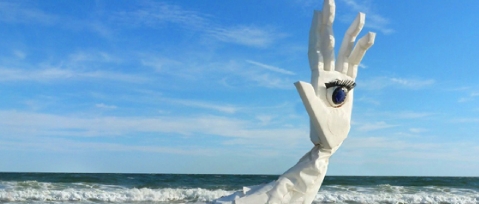 At the waters edge a fantasy emerges from the sea. Epic and intimate, and spun round the mythic birth of Aphrodite, goddess of beauty love and desire, a performance of puppets enchant and invite us to dream awake before they return from whence they came. Accompanied by japanese master musician Yumiko Tanaka's live soundscape the audience will gather on the sands for this one of a kind event.

World Premiere Performances
LaJolla Shores, San Diego
October 3- 6 @ 1 & 3pm
Tix are not required for·Seafoam Sleepwalk. Action takes place on the sand and there is no seating provided.
For WOW Festival Details go to: La Jolla Playhouse
40th Greenwich Village Halloween Parade - Jefferson Market Library Spider

Twist carries on a thirty-year tradition of puppetry manipulated from homes and buildings along the Parade route. For the 15th year, he manipulates his striking giant spider during the Parade from the dramatic Italianate Gothic Clock tower of the Jefferson Market Library. Each year as the winds of October howl, Twist walks the beloved arachnid up the 149 stairs of this New York landmark to it's perch in the tower. This puppet is a visual treat for those participating in the Parade as well as those lined near the Library who can witness this annual appearance.
Expect a visitor in the Tower this year to celebrate the Parade's 40th Year!
LINK to our Halloween Production section


"Tantalizing…it will come to you as far as you let it in." —The New York Times
"An artist of wild imagination and singular poetic vision, puppeteer Basil Twist creates absorbing works that connect classic stories with profound music and mesmerizing visuals." Basil is proud to make his Cal Performances debut with his meditative Dogugaeshi. Transforming the Zellerbach stage into an intimate theatrical setting for 9 performances only! This is the final U.S. stop before the show departs for Europe for the 2014 & 2015 Seasons.
November 6-10 curtain times vary
For tickets and further info on these performance dates:
CAL PERFORMANCES