The Dream Music Puppetry Program is also home to THE GRIFF WILLIAMS PUPPET EXHIBITION. The puppets on display in the cases outside of The Dorothy B Williams Theatre were given to puppeteer Basil Twist by his grandmother Dorothy B. Williams Tenney. They had belonged to her husband, Griff Williams - a big bandleader in the 1930's and 40's. Griff was a puppeteer by hobby and began incorporating his avocation into his profession by building puppets in the likeness of other famous big band leaders and conductors of his time.
During performances of the Griff Williams's Orchestra, the lights would dim, a spotlight would appear on the grand piano and Mr. William would bring one of his puppets to life as the bands guest conductor.
These cherished puppets were passed on to a young Basil Twist, and later Basil and Griff's puppets would fine their way to HERE blessing the opening of the Dorothy B. Williams Theatre and the initiation of HERE's puppetry program. The dream music puppetry program is named after the Griff Williams Orchestra's theme music. The puppets on display at HERE Arts Center are: Harry James, Griff Williams, Cab Calloway, Arturo Toscannini, Ted Lewis, and Paul Whiteman.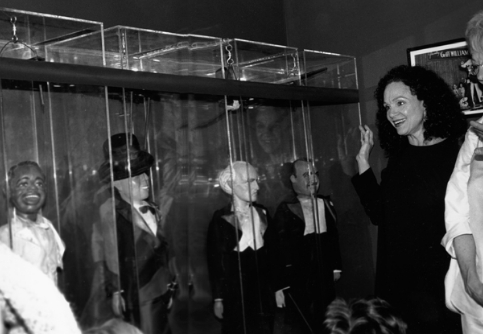 Valerie Harper pictured at the opening dedication of The Dorothy B. Williams Theatre and premiere of Basil's SYMPHONIE FANTASTIQUE at HERE in New York, 1998.