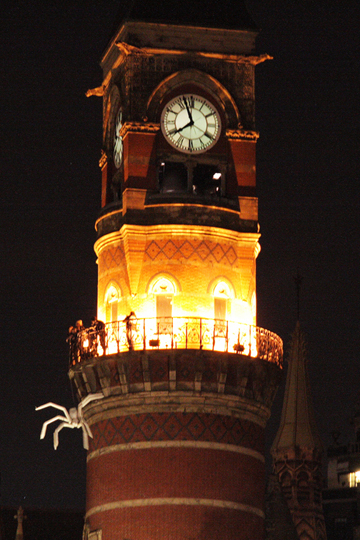 He manipulates his striking giant spider during the Parade from the dramatic Italianate Gothic Clock tower of the Jefferson Market Library. Each year as the winds of October howl, Twist walks the beloved arachnid, spanning ten feet, through the streets of the west village, up the 149 stairs of this New York landmark to it's perch in the tower. (watch video here) This puppet is a visual treat for those participating in the Parade as well as those lined near the Library who can witness it's annual appearance.
Five years ago HERE Arts Center, where the parade kicks off its explosive annual festivities, began its own year-round initiative, The Dream Music Puppetry Program, promoting the art of puppetry. Led by veteran Parade Puppeteer Basil Twist one of the activities of Dream Music has been to enlist the greater community of New York City artists to contribute to the Parade's venerable puppetry tradition. Each year the Parade and Dream Music commission 6 artists or groups to design and construct Giant Pageant Sized Puppets built around the theme of that year's Parade. The puppets are unveiled at the Parade on Halloween night. These Puppet Commissions act as a catalyst for artists who are emerging in the field, giving them financial support and a risk-free opportunity to realize a specific project.


For the past 26 years, Artistic Director of the Parade, Jeanne Fleming has featured large scale puppets as an integral part of the Halloween Parade in recognition of the rich tradition of puppetry associated with the Parade since its beginning. Twist began his collaboration with Fleming in 1996 when he created a swarm of bats for the 26th Parade. In 1999 he created a giant spider for the event. Today, Twist keeps alive one of the original traditions of the Parade; puppets manipulated from homes and buildings along the Parade route for the delight of the participants.